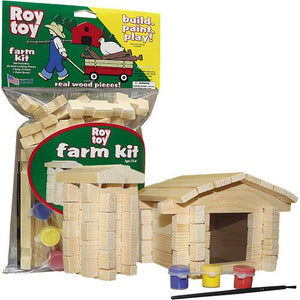 Roy Toy Build and Paint Farm Play Set
All-natural Roy Toy pine wooden building sets.  Looking for something fun for your kids to build and use their imagination?  Roy Toy Build and Paint Farm Set will create hours of fun for your kids.  Each play set comes complete with non-toxic paint and a paintbrush to design, build, and paint your own set! Wooden pieces are all-natural and sanded to a smooth finish ready to be painted. Each set is the perfect size to play with your Matchbox fire vehicles, your toy army men, etc.  Roy Toy play sets are Made In The USA!

Paintbrush, paint, and farm building directions included.
Imagine if you could be satisfied and content with your purchase. That can very much be your reality with the Roy Toy Build and Paint Farm Play Set.

Inventory Last Updated: Dec 08, 2023