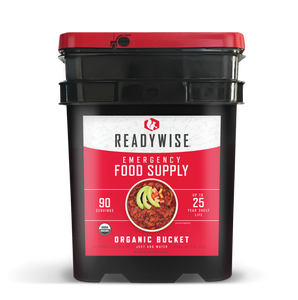 90 Serving Organic Bucket
The ReadyWise 90 serving organic bucket is a perfect addition to any food supply. Whether you're affected by a snow storm, hurricane or other weather emergency, it's wise to be prepared. These great-tasting freeze-dried and dehydrated foods are ready in minutes when you just add water. They also come in stackable buckets with an easy Grab-N-Go handle, so they're easy to store and transport.

What's included in this kit?
5 pouches of Pineapple Chipotle Chili (20 Servings Total)
5 pouches of Pasta Primavera (20 Servings Total)
5 pouches of White Cheddar Broccoli Soup (20 Servings Total)
3 pouches of Oatmeal (30 Servings Total)
Additional Product Details:
Includes 1 total bucket
Total calories: 19,500
10 days of food at 1800 calories per day
About 90 cups of water needed
Food is safely sealed in Metallyte™ pouches
To avoid waste, each pouch conveniently contains 4 servings
Grab-and-go handles for easy transport in an emergency
25 year shelf life
Total Weight: 13 lbs
Dimensions: 11.75" x 9.75" x 14.75"
The 90 Serving Organic Bucket destined to impress, and priced at only $239.99, for a limited time.

Inventory Last Updated: Dec 07, 2023