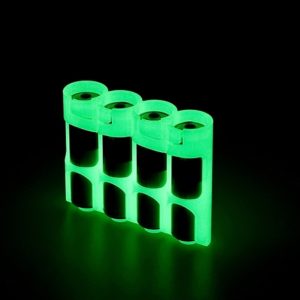 Storacell SlimLine AA Orange
It is time to get your AA batteries organized with the Storacell SlimLine AA Moonshine battery holder.  The SlimLine AA organizer will securely hold 4 of your AA batteries.
Holds 4 AA batteries (batteries not included)
Store batteries in a compact, easy to find caddy
Dispenses batteries with one hand for safety and convenience
Terminal protection at both ends regardless of how the battery is inserted
Glows in the dark
Weight:  0.4oz
Size:  2 3/4 x 3/4 x 2 1/4"
The Storacell SlimLine AA (Moonshine) was built with people like you in mind. Something to keep you happy. Every. Single. Day.

Inventory Last Updated: Dec 07, 2023