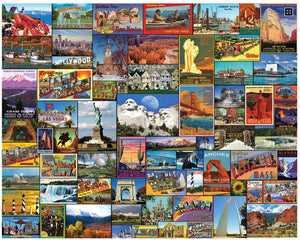 Best Places in America- 1000 PC - White Mountain Puzzles
From sea to shining sea.  This puzzle has so many wonderful places in our country.  A travelers delight!
1119 Best Places in America. Greetings from some interesting tourist sites and welcome to several of our national parks on a colorful collection of post cards assembled by Lew Johnson for this 1,000 piece puzzle.
The Best Places in America- 1000 PC - White Mountain Puzzles destined to impress, and priced at only $17.99, for a limited time.

Inventory Last Updated: Sep 27, 2023