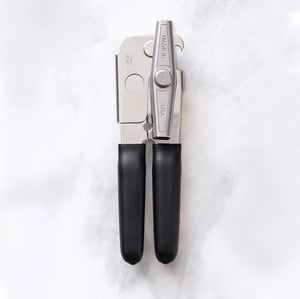 Rada Deluxe Can Opener
Are you tired of can openers that can't pierce the can?  Rada has the answer with the new Rada Deluxe Can Opener.
Rada is a name that means quality and now they have made a new quality can opener.  The Rada Cutlery Deluxe Can Opener is built to last, with superior precision and a simple design that works to cut two ways. Hold vertically at the side of the can for a traditional cut or position horizontally on top of the can to remove the entire top, below the lid's edge.  With a lifetime warranty, made in the USA, and the low price, we certainly think it is the best can opener around!

• Total Width: 4"
• Total Length: 8 3/4"

• Country of Production: USA
• Product Warranty: The Rada Guarantee
The Rada Deluxe Can Opener is evocative, to say the least, but that's why you're drawn to it in the first place.

Inventory Last Updated: Sep 24, 2023