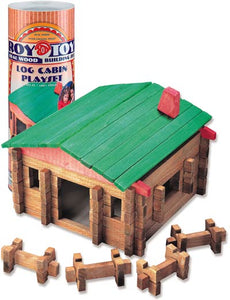 Roy Toy Classic Log Cabin Play Set

Enjoy playing with your kids and reliving your childhood with this Roy Toy Classic Log Cabin play set. Your kids will enjoy playing with this log cabin play set and it is a toy that they can pass down for generations.  Roy Toy is proudly made in the USA!

140 wood toy pieces, + bonus pieces.
Large log cabin building directions included.
Packed in a nostalgic canister.
Life is too short to live without the Roy Toy Classic Log Cabin Play Set. Be happy. Be Content. Be Satisfied.

Inventory Last Updated: Dec 04, 2023