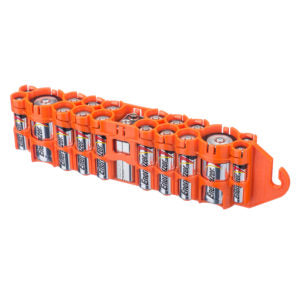 Storacell Original Battery Caddy (Orange)
Do you have lots of batteries that are roaming around lose?  We have the solution!  The Storacell Original Battery Caddy.
Holds: 12 - AA's, 4 - AAA's, 2 - C's and 1 - 9V battery. Batteries not Included.
Originally designed for pilots, but also great for camping, boating, travel or at home.
Dispenses batteries with one hand for safety and convenience.
Terminal protection at both ends regardless of how the battery is inserted.
Built-in hook for hanging at home or work.
Store your batteries in a compact, easy to find caddy.
Made in USA
Weight: 2 oz.
Size: 9 x 1 1/2 x 2 1/4 in.
Every product is unique, just like you. If you're looking for a product that fits the mold of your life, the Storacell Original Battery Caddy (Orange) is for you.

Inventory Last Updated: Sep 24, 2023